VicNet Online Volunteer Portal
VicNet is the optional module that gives volunteers online access. With VicNet, volunteers can check their schedules, sign-up for schedule openings, update their profile information, post their service, and receive messages from you-- all from any internet-connected computer.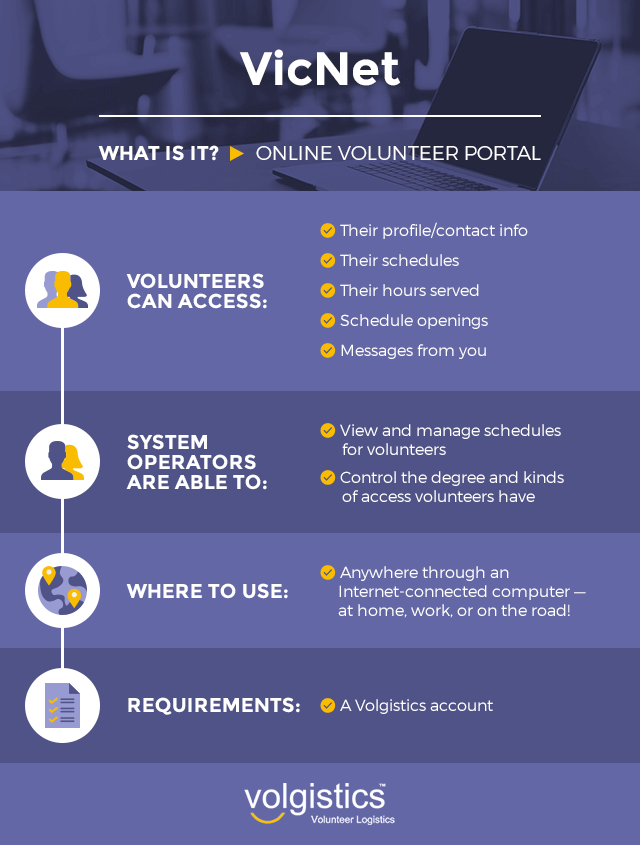 VicNet Features for Volunteers
Check or maintain information such as their address, phone numbers, and email address.
Check and print their schedule, sign-up for schedule openings, and alert you to times they cannot serve as scheduled.
Post their hours, and view and print their past service information.
Check the progress toward the completion of their mandatory service.
Receive messages.
VicNet Features for Coordinators
View and manage information for the volunteers assigned to their area.
View and manage volunteer schedules for their area.
VicNet works seamlessly with your Volgistics account, and you control the degree and kinds of access volunteers can have. You manage VicNet from the Setup area inside your Volgistics account.
Volunteers and coordinators use a login name and password to access their information, and they can interact from any internet connected computer: at home, work, or on the road. Volunteers get to VicNet through a link on your own web site, and you can "brand" the service to match your site.
Benefits of Online Volunteer Management Software
If you have been managing your volunteer organization mainly through face-to-face communication and phone calls, you may be wondering why you need online volunteer software. As you grow, you will quickly discover why a reliable online volunteer management system is so important.
In today's non-profit environments, online access for volunteer managers and their volunteers is critical. For efficiency purposes, allowing your coordinators to manage volunteers online is a must. Many volunteer organizations have a large number of volunteers, and each coordinator may be responsible for managing a considerable group at any given time. With the right online volunteer management system, coordinators can know at a moment's notice which volunteers they have access to and where they are located.
An online system can provide a variety of benefits, including:
Volunteer managers can create available shifts and allow volunteers to schedule themselves, giving them more ownership over their service.
Communicating with volunteers electronically promotes engagement
Online access makes it easier to recruit new volunteers, especially younger ones.
Volunteers with service requirements can check their progress online rather than asking you for an update.
You can determine how much access volunteers have, making it easy to distribute information without allowing too much access to sensitive tools or information
Learn More About Volgistics
Ready to learn more? Sign up for a 30-day free trial below, or schedule a live demonstration!