Volunteer Scheduling Software
Your volunteer schedule is the core of your organization's volunteer structure. Make it easier to stay on top of volunteer scheduling with a system designed for the task.
As a software that schedules volunteers, Volgistics' volunteer management software can satisfy your volunteer scheduling needs. This application makes it easy to manage your volunteers' schedules and ensure volunteer tasks continue as planned. Whether you manage volunteers for a busy hospital, a community kitchen, or an annual music festival, Volgistics provides all the essential features you need to schedule volunteers.
Scroll down to see all of our volunteer scheduling features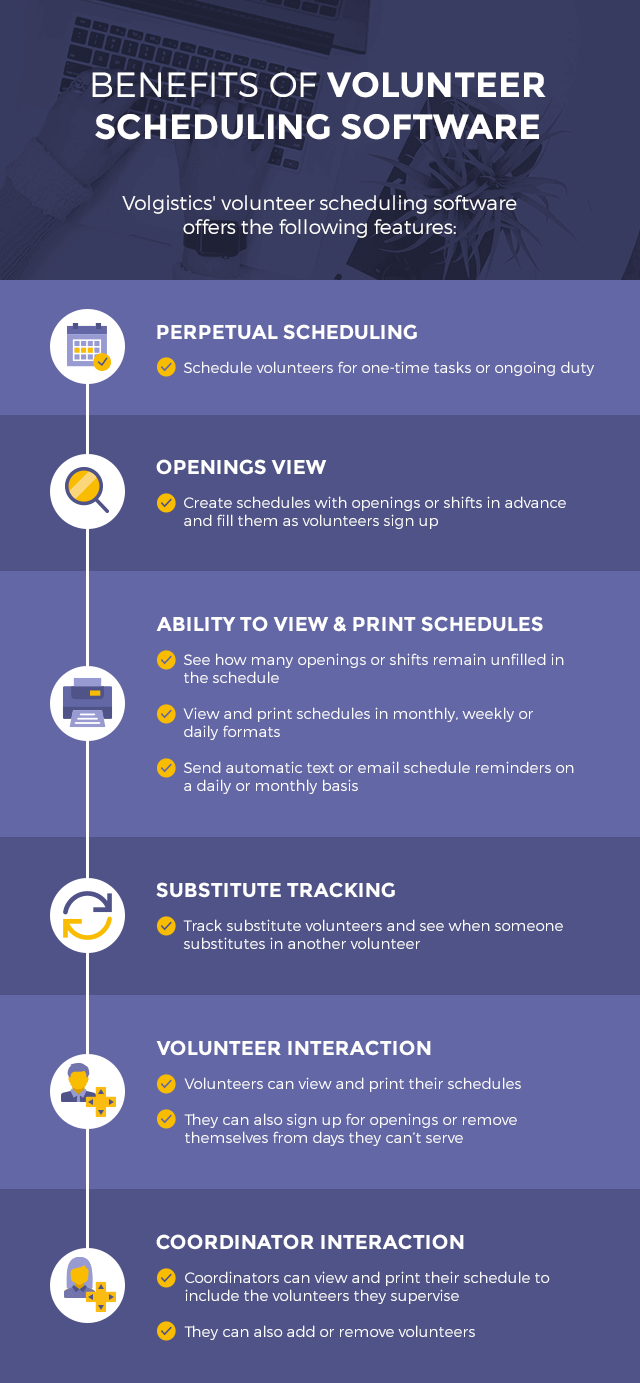 Scheduling Features
Volgistics' volunteer scheduling software includes customizable features to help your organization and volunteer leaders stay organized, such as:
Repeating Schedules
Schedule volunteers for both one-time and ongoing tasks. You can also schedule volunteers for perpetual ongoing duty, setting their hours at nearly any regular interval — for example, every Monday, alternate Saturdays, first and third Thursdays, or something else.
Openings
Create schedules with openings or shifts in advance and fill them as volunteers sign up. This feature also allows you to easily see how many openings or shifts remain unfilled in your schedule.
View and Print Schedules
With this function, volunteer organizers can view or print schedules in monthly, weekly, or daily formats from the volunteer scheduling system. They can also filter and print these schedules by specific volunteers, groups, sites, places, assignments, or coordinators.
Substitute Tracking
If necessary, your organization has the option to track substitute volunteers. This function allows organizations and volunteer leaders to see when someone substitutes in for another volunteer, showing both the substitute's name and the name of the volunteer that they are replacing in the schedule.
Volunteer Self-Service Portal
With the optional VicNet module, volunteers can go online from any internet connected computer to view and print their schedule; sign-up for vacant schedule openings; or remove themselves from days they cannot serve as scheduled.
Coordinator Interaction
With the optional VicNet module, coordinators can view and print their schedule to include the volunteers they supervise, as well as add and remove volunteers from their schedule.
Text and Email Reminders
Prevent no-shows and improve attendance by reminding volunteers of upcoming shifts. Administrators can send schedule reminders manually or automatically, by email or text message. These can be sent on a daily or monthly basis.
Post Hours From Schedules
If you schedule volunteers in advance, you can optionally post a volunteer's service directly from the volunteer scheduling database.
With these functionalities, your organization can ensure its shifts are filled quickly and that your volunteer hours are tracked appropriately. Even better, if your organization requires additional support or customization, visit the Volgistics site to make use of our extensive support system, including hours of detailed video tutorials and a free dedicated support team with a quick response time.
Learn More About Volgistics
Are you ready to learn more about how Volgistics volunteer scheduling application software can help your business make the most of its volunteer base? Contact our support team or sign up for a free trial today! If you are interested in how our Volgistics software works, register for a live demonstration!